All video introductions for the studies can be found at: Sabbath School on the Move YouTube Channel

This quarter we're looking at the vital subject "How to Interpret Scripture."

Much of the Bible is story, and frequently told without comment. So often there are highly involved situations, yet we are not told who is right and who is wrong and what is the right path to follow. This provides us with a hint that reveals God is dealing with humanity in all its complexity. So we have to determine what God is saying through all this. Actually it may not be that the Bible is obscure, but that the evident meaning is disturbing and distressing .In the words of Mark Twain, "It ain't the parts of the Bible that I can't understand that bother me, it is the parts that I do understand."
The actions of the God of the Bible can be alarming, especially in the Old Testament. Some have expressed their great concern at the way God appears to operate in the Bible, and their apprehensions can be shared by many. Comments Thomas Paine, "There are matters in the Bible, said to be done by the express commandment of God, that are shocking to humanity and to every idea we have of moral justice."
So there is clearly the need for interpretation, particularly why God says or does something.  For God is credited with much death and destruction. If God is seen as truly responsible for such actions, then it is hardly surprising that he could be viewed as the worst tyrant in history.
The question therefore arises as to the responsibility of God, and what relationship he has to the actions of human beings. However some cautions are important to remember. Just because an event is recorded in the Bible does not mean that this is an example to follow, for instance. Nor is every word spoken, even by God's supposed followers, to be understood as the will and intention of God. In many cases there is no commentary and the reader is left to understand what is right and wrong, and what lessons are to be learned. That's why we need to be careful with our interpretation, and how we decide exactly which actions of God are reflective of his true character and which are reactions to a specific situation which may be far from what he would really want. The Great Controversy is playing out…
You may comment back to us by email (details on the About page)
Sabbath School on the Move meetings in progress
Speaking at Sligo Church Sabbath School Teachers' Meeting: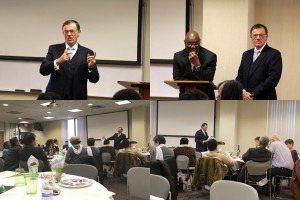 Some of Dr. Gallagher's articles and books are available here: articles  books
Through a free, conversational study of the Scriptures Dr. Jonathan Gallagher invites you to participate in an exciting analysis and discussion of the Sabbath school lesson in the context of the character of God and in the setting of the Great Controversy
This supportive ministry seeks to make the Sabbath school study a relevant and important part of spiritual life by providing actual class discussions in audio format, accompanied by
study sheets. In this way class members become far more involved in discussing vital spiritual issues,particularly focusing on the nature and character of God in the setting of the Great Controversy. By centering the focus on a 'free, conversational study of the Scriptures,' Sabbath School On The Move contributes to both the growth and development of individual members and also a wider and more dynamic involvement in the fundamental message and mission of the church.
Recorded at different locations and also online, Sabbath School On The Move is made available free via the Internet to all, providing a rich resource for those teaching the lesson as well as those wishing to be more deeply informed about the subjects presented by the lesson. It is particularly useful to those who for various reasons are not able to attend Sabbath school in person, and provides a "virtual community" to members who can then experience the sense of belonging and participating in the wider church around the world.