All video introductions for the studies can be found at: Sabbath School on the Move YouTube Channel

This quarter we're looking at Stewardship.

While for some this may not be the most exciting topic for Bible study, it is an essential one because of who we are and the times in which we live.
Materialism is a constant threat to our Christian experience. We are bombarded on all sides with advertising and information about what we should be buying, and what we should want to buy. None of us are immune from the consumer society in which we live. The challenge is to admit this, and then deal with it. It certainly is not enough to say "I don't watch ads," or "I'm not influenced by others to buy anything." Our whole society is built around being consumers, and we do indeed need basic things in order to live.
The problem comes in the way we think about what we want. We are conditioned to want more than we need or can afford. We are taught to be competitive in our purchase, wanting to have more or better than our friends and neighbors. Jesus was very much aware of the temptation of gaining possessions. He warned that we are not to value others by their wealth or lack of it. He also told us to consider what our life's priorities are, and how we should set about storing up treasure in heaven.
You may comment back to us by email (details on the About page)
Sabbath School on the Move meetings in progress
Speaking at Sligo Church Sabbath School Teachers' Meeting: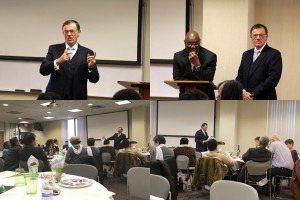 Some of Dr. Gallagher's articles and books are available here: articles  books
Through a free, conversational study of the Scriptures Dr. Jonathan Gallagher invites you to participate in an exciting analysis and discussion of the Sabbath school lesson in the context of the character of God and in the setting of the Great Controversy
This supportive ministry seeks to make the Sabbath school study a relevant and important part of spiritual life by providing actual class discussions in audio format, accompanied by
study sheets. In this way class members become far more involved in discussing vital spiritual issues,particularly focusing on the nature and character of God in the setting of the Great Controversy. By centering the focus on a 'free, conversational study of the Scriptures,' Sabbath School On The Move contributes to both the growth and development of individual members and also a wider and more dynamic involvement in the fundamental message and mission of the church.
Recorded at different locations and also online, Sabbath School On The Move is made available free via the Internet to all, providing a rich resource for those teaching the lesson as well as those wishing to be more deeply informed about the subjects presented by the lesson. It is particularly useful to those who for various reasons are not able to attend Sabbath school in person, and provides a "virtual community" to members who can then experience the sense of belonging and participating in the wider church around the world.