All video introductions for the studies can be found at: Sabbath School on the Move YouTube Channel

This quarter we're looking at the Biblical books of Ezra and Nehemiah.

The role of God's people was to rightly represent him. They had become a complete failure in the time before their exile, so much so that in many ways they were worse than the Canaanites they had expelled from the land. Their formalistic worship and hypocrisy was rejected by God through the prophets, but the people didn't care, continuing their sinful lifestyles under a cloak of pretentious piety. Taking God for granted, they never believed that he would allow them to be defeated and taken off into captivity.
Now the tragedy is that the "glorious return" has become something of a joke. Few had responded to the call to return, and those who did were unable to achieve very much. Nehemiah's intervention was to try and address these problems—more prople, and a confident trust in God to carry through what he had promised.
As we apply such lessons in our own lives we can see where we have failed God. As David said, "My sins are always before me!" The problem is that this can blind us to the redemptive power of God who promises to forgive us and renew us. Our return to God may be as feeble as the Jews' return to Jerusalem! Instead of wringing our hands over what might have been, as surely many Jews did, the important thing was to get on with rebuilding their lives—and so should we! All too often we don't really believe in God's power to heal and transform, and we hold onto our feeble and doubtful feelings.
So we will see how Ezra and Nehemiah changed all that, sometimes by drastic methods! Right now the important aspect is to be convinced, to believe that God can do as he has promised, in our own lives.
You may comment back to us by email (details on the About page)
Sabbath School on the Move meetings in progress
Speaking at Sligo Church Sabbath School Teachers' Meeting: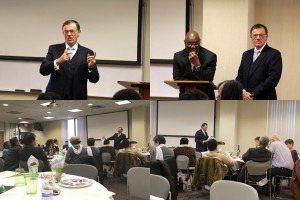 Some of Dr. Gallagher's articles and books are available here: articles  books
Through a free, conversational study of the Scriptures Dr. Jonathan Gallagher invites you to participate in an exciting analysis and discussion of the Sabbath school lesson in the context of the character of God and in the setting of the Great Controversy
This supportive ministry seeks to make the Sabbath school study a relevant and important part of spiritual life by providing actual class discussions in audio format, accompanied by
study sheets. In this way class members become far more involved in discussing vital spiritual issues,particularly focusing on the nature and character of God in the setting of the Great Controversy. By centering the focus on a 'free, conversational study of the Scriptures,' Sabbath School On The Move contributes to both the growth and development of individual members and also a wider and more dynamic involvement in the fundamental message and mission of the church.
Recorded at different locations and also online, Sabbath School On The Move is made available free via the Internet to all, providing a rich resource for those teaching the lesson as well as those wishing to be more deeply informed about the subjects presented by the lesson. It is particularly useful to those who for various reasons are not able to attend Sabbath school in person, and provides a "virtual community" to members who can then experience the sense of belonging and participating in the wider church around the world.