All video introductions for the studies can be found at: Sabbath School on the Move YouTube Channel

This quarter we're looking at "The Promise: God's Everlasting Covenant"

We need to identify a problem from the beginning. The word "covenant" is not one with which people today are familiar, unless it's in a legal setting. That colors the perspective by which we view God's covenant. We must consider what kind of meaning we give to words like "covenant." Is our relationship to God contractually-based, or is it more a question of principles? Covenants are especially helpful for suspicious people. It provides some kind of guarantee, rather than simply trusting others to do the right and honorable thing. Trouble is, if we are doubtful or suspicious of God, and so want the covenant, what does that say about us and our relationship with God? Perhaps it is simply better to use the meaning of covenant as promises so that we do not become sidetracked by the contractual obligations concept.
Many images that have been used to describe salvation fail to rightly represent what is going on. It is God winning us back to love and trust him by the demonstration of who he is and how he can heal us. What was the problem we faced as human beings back in the beginning? We believed the lies of the Devil and distrusted God and so broke our love relationship with him. How does God restore this relationship that is vital for our continued existence? By showing the Devil and our parents were totally wrong in their rejection of God, most effectively by Jesus' life and death, showing us the truth about God. Once God has regained our trust, then he can heal us—an active intervention that restores the image of God in us.
In the Old Testament God identifies himself: "I am the Lord who heals you." Exodus 15:26 FBV. In Luke 8:48 Jesus explains that we are healed by placing our trust in him to do just that, and in Luke 7:50 Jesus uses the exact same word to describe salvation. Jesus wanted us to understand that salvation is healing.
Included in the meaning of salvation are the two ideas of rescue (save) and healing (salve). The related words save and salve show that we both need to be taken out of our current fatal situation, and we need to be cured of our fatal disease too. Rather like a drowning man—he needs to be taken out of the water, and then he needs the water taken out of his lungs! The good news is that in God's plan, he does both. He both saves us from this sinful world, and he cures us of our sin-sickness, which if left untreated would inevitably kill us.
What God really wants, as he makes clear in the later prophets, is not the minute observance of rituals and sacrifices, but a relationship that is based on love, truth, and trust: "What should I take with me when I approach the Lord, when I bow down before the God of heaven? Shall I come before him with burnt offerings, with calves a year old? Will the Lord be pleased with thousands of rams, or ten thousand rivers of olive oil? Shall I sacrifice my firstborn child for my rebellion, my own flesh and blood for the sins I have committed? The Lord has told you what is good, and what the Lord asks from you: to do what is right, to love kindness, and to walk in humility with your God." Micah 6:6-8 FBV.
You may comment back to us by email (details on the About page)
Sabbath School on the Move meetings in progress
|
|
|
|
|
Speaking at Sligo Church Sabbath School Teachers' Meeting: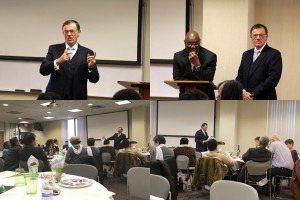 Some of Dr. Gallagher's articles and books are available here: articles  books
Through a free, conversational study of the Scriptures Dr. Jonathan Gallagher invites you to participate in an exciting analysis and discussion of the Sabbath school lesson in the context of the character of God and in the setting of the Great Controversy
This supportive ministry seeks to make the Sabbath school study a relevant and important part of spiritual life by providing actual class discussions in audio format, accompanied by
study sheets. In this way class members become far more involved in discussing vital spiritual issues,particularly focusing on the nature and character of God in the setting of the Great Controversy. By centering the focus on a 'free, conversational study of the Scriptures,' Sabbath School On The Move contributes to both the growth and development of individual members and also a wider and more dynamic involvement in the fundamental message and mission of the church.
Recorded at different locations and also online, Sabbath School On The Move is made available free via the Internet to all, providing a rich resource for those teaching the lesson as well as those wishing to be more deeply informed about the subjects presented by the lesson. It is particularly useful to those who for various reasons are not able to attend Sabbath school in person, and provides a "virtual community" to members who can then experience the sense of belonging and participating in the wider church around the world.