All video introductions for the studies can be found at: Sabbath School on the Move YouTube Channel

The subject for this quarter is Rebellion and Redemption.
Finally a set of lessons that deals with the Great Controversy! While there may still be elements we would wish were better elaborated, we have here an opportunity to examine the big picture and see the cosmic conflict over God's nature and actions.
God's in his heaven—but all's wrong with the world. So if God is God, why doesn't he step in? Either God isn't all-powerful and he can't stop it; or he isn't all-loving, and doesn't really care what's happening here. That's the argument—and for many a very persuasive one. In a recent compilation of ideas about God, most gave the problem of evil and suffering as the main reason they rejected God. He is either not there, or if he is, then he acts as a terribly cruel tyrant and consequently is not worth knowing anyway. But there is another far more comprehensive and valid answer, one that does justice to reason, and which puts God in a good light. Rebellion has broken out in God's Universe.
Only as the conflict is resolved through the unmasking of evil's real face, only as God is demonstrated to be the loving, compassionate Being he says he is, only as all his creation agrees with him that he was right all along—only then can God bring this rebellion to a close. Those who have chosen the Devil's way will be allowed their choice of final non-existence in the end-time destruction. Then, and only then, can God create a new heaven and a new earth, a place where righteousness dwells and the goodness of God reigns supreme
You may comment back to us by email (details on the About page)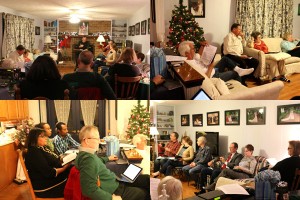 Sabbath School on the Move meeting December 2015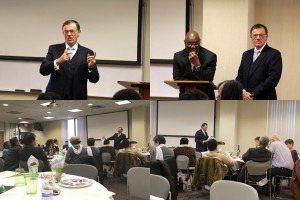 Speaking at Sligo Church Sabbath School Teachers' Meeting:
Some of Dr. Gallagher's articles and books are available here: articles  books
Through a free, conversational study of the Scriptures Dr. Jonathan Gallagher invites you to participate in an exciting analysis and discussion of the Sabbath school lesson in the context of the character of God and in the setting of the Great Controversy
This supportive ministry seeks to make the Sabbath school study a relevant and important part of spiritual life by providing actual class discussions in audio format, accompanied by
study sheets. In this way class members become far more involved in discussing vital spiritual issues,particularly focusing on the nature and character of God in the setting of the Great Controversy. By centering the focus on a 'free, conversational study of the Scriptures,' Sabbath School On The Move contributes to both the growth and development of individual members and also a wider and more dynamic involvement in the fundamental message and mission of the church.
Recorded at different locations and also online, Sabbath School On The Move is made available free via the Internet to all, providing a rich resource for those teaching the lesson as well as those wishing to be more deeply informed about the subjects presented by the lesson. It is particularly useful to those who for various reasons are not able to attend Sabbath school in person, and provides a "virtual community" to members who can then experience the sense of belonging and participating in the wider church around the world.